XK Glow 48 Watt Fanless LED Headlight Error-free Conversion Kit.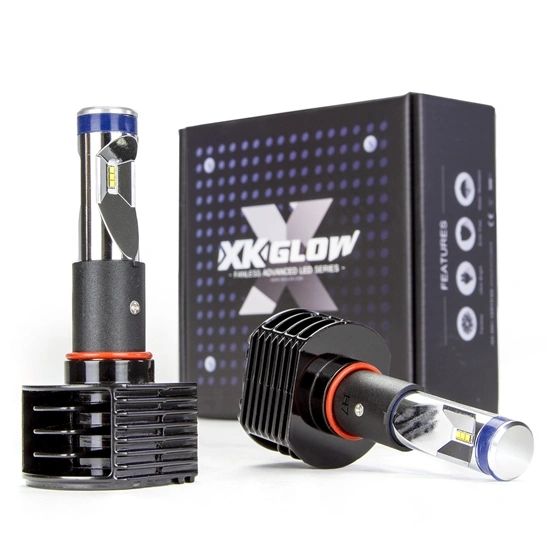 XK Glow 48 Watt Fanless LED Headlight Error-free Conversion Kit.
Perfect for Off-road Vehicles. Weatherproof design
Fan less Heat Dissipation Design with Nano Cooling Coating
Luminosity Rating - 5000 Lux / 1600 Lumens per bulb
Genuine Philips Lumileds LED Chips.
Superior beam angles and higher efficacy versus conventional LED bulbs

Anti-glare Reflector puts the light where you need it most!

2 year warranty

Built with Philips Lumileds Luxeon ZES chips, these LED headlight bulbs will provide increased visibility, a wider viewing angle, and a much longer lifetime over halogen bulbs. The Luxeon ZES chip enables never before seen luminance and flux density for the automotive industry. Although the lumen rating may seem low, the superior beam angles and higher efficiency of the ZES chip result in more usable lux. The dual beam bulbs feature an Anti-glare Reflector Design, which eliminates glare for other road users and puts the light where you need it. The bulbs utilize Air Jump Technology, an aerodynamical heat cooling system with Nano Cooling Coating eliminating the need for a fan. With an IP-67 waterproof rating, an operating temp range of -40°C to +80°C, and no moving parts these bulbs are ready for dust, dirt, and whatever else.





Luminosity: 5000 Lux

Low beam: 24W

High beam: 24W

Single Beam: 24W

Input voltage: 12 / 24V DC

Color temperature: 6000K
Waterproof: IP 67




2pc LED bulbs

2pc compact driver
Mounting hardware (3M tape, zip ties)




Vehicles with HB3(9005), HB4(9006), H7, H10, H11, H16, H4(H/L), H13(H/L), 9007(H/L), H1, H4(H/L), H8, 9004(H/L) headlight bulbs. May not fit with dust cover. CanBUS error free may not apply to German vehicles or Chrysler/Jeep/Dodge. If you have a German or Dodge CANBUS vehicle you can use our standard set of error eliminators to clear your error codes.