XK Glow 2pc 12 inch tube Cabinet and Display kit.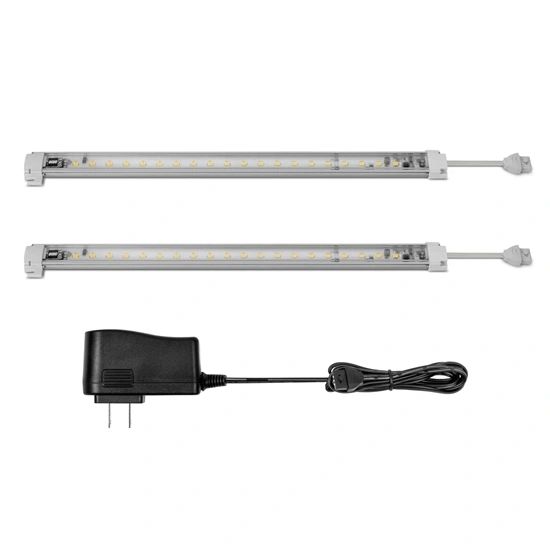 XK Glow 2pc 12 inch tube Cabinet and Display kit.
2pc light bars. 20 Ultra bright LEDs per 12" bar. Latest LED technology.
Available in Warm and Cool White

2-3 times brighter than most competitors' light.

Touch ON/OFF or adjust the brightness on any bar.

Up to 85% more energy efficient than traditional lights.

Aluminum housing. Durable & efficient heat distribution.

Snap-in plugs allow for quick and easy installs.

Built-in mounting brackets. Simple 'Plug & Play' installation.

50,000 hour long life.

Mounting instructions:

Download PDF

Built with the latest SMD LED technology, this XKGLOW ultra-bright light kit is designed for various home and commercial environments, such as: kitchen, shelf, TV wall, closet, display window, bar, countertop, etc. Each 12" tube features 20 top grade LEDs to ensure the maximum brightness. Our lights can be used for all types of lighting applications and will outperform the most popular lights on the market.


The first end of each tube has a touch sensor built in. Simply tap the end of the bar to turn all of the lighting ON/OFF or hold to adjust the brightness. With this all new feature, there is no need to go to the other side of the kitchen to get to the switch! Just tap the bar in front of you and you have complete control over the entire kit! See below.

Each light bar is built with heavy duty aluminum housing to achieve the best heat distribution. Compared to a 30 watt 12" Xenon light, our XKGLOW 12" LED light bar is 85% more efficient while achieving the same brightness and a much longer life span for about the half the price!


Power Adapter:
12W. This adapter can power up to 2pcs 12" XKGLOW light bars.

Input: 100-240V AC.

Output: 12V DC, 1A.
LED Light Bar:
Input: 12V DC

LED amount: 20pcs "3528" type SMD LED chips per light bar.

12"L x 0.8"W x 0.3"H.
2) 12" light bars

1) 12W power adapter
Mounting Accessories