Diode Dynamics DS3 Switchback, Sequential, dimmer module (pair)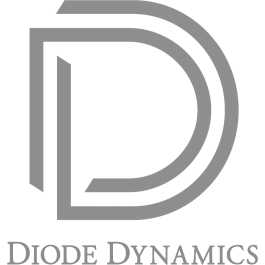 Diode Dynamics DS3 Switchback, Sequential, dimmer module (pair)
Designed and Made in USA by Diode Dynamics Manufacturing
This is a 12V LED power controller, that provides dimming, switchback, and 3-output sequential functions. D-S-3. And it's in one waterproof, low-cost package!
With an input range of 9-16V, and common ground, it is perfect for any automotive application. It can be used for turn signal applications, DRLs, and more! Perfect for the retrofitter or DIY'er looking to create an OEM-style function with a few 12V LEDs.
There are four input wires: black, yellow, white, and red. 
Black is GROUND, and should be connected to a constant chassis ground.
Yellow is TURN signal input.
White is DIM power, or running light input, where you want only half brightness.
Red is HIGH power, where you'd want full brightness, such as a brake light or DRL.
The output wires are: 
White: static signal. When power is applied to DIM, it will have a PWM dimmed signal at about 50% brightness. When power is applied to HIGH, this wire will be a full 12V power. For example, you might connect this to a red light to act as a running light and brake light, or a white light to act as a running light and DRL.
Yellow, Blue, and Green: Sequential outputs, in that order. You might connect each one, or perhaps just the first one, to an amber or red LED, to become a turn signal. The static output will shut off, "switchback" style, while the turn signal is running. The sequential pattern is standard, with the first light coming on first, and staying on until the second, and then third turn on, then all shut off, and the pattern repeats.
Black: extra ground output. This does not need to be connected- it is an extra ground point. You can connect LEDs to ground here, or anywhere on the chassis.
Input wires are male spade connectors, with T-taps for installation. Output wires are bare leads, for connection to LEDs.
Waterproof and shockproof, with full encapsulation.
Maximum current of 2 amps on white channel, 3 amps on each amber channel.