2nd Gen 2 in 1 LED Headlight Bulb Kit - XKchrome Smartphone App-enabled Bluetooth RGB Devil Eye + LED Headlight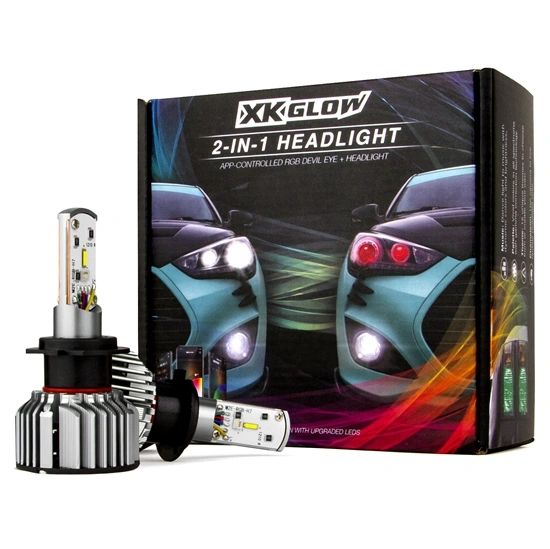 2nd Gen 2 in 1 LED Headlight Bulb Kit - XKchrome Smartphone App-enabled Bluetooth RGB Devil Eye + LED Headlight
2pc Mini XKchrome BLE 4.0 app controller.

2pc 2nd Gen LED bulb.

2pc LED driver.
ON/OFF switch wire.

3 year warranty.


iOS device compatibility: iPhone 4S or higher; iPad 3 or higher; iPad Mini or higher, iPod Touch 5th gen or higher.

Android device compatibility: Must be equipped with Bluetooth 4.0 (BLE) and Android 4.4 or higher version system.

Controller Max load: 3A per XKchrome Mini Controller.
Input voltage: 9-15V DC.

Brake sensor input voltage: 12V.

Reversed polarity protection: Yes.

Transient voltage suppression: Yes.

Controller Dimension: 4" x 2.33 x 0.73" (100 x 60 x 19cm)

Applications: Check owner's manual for bulb size.
White LED chip: 30W

RGB LED chip: 3W

Lumen(white): 3000 lumen

Input voltage: 9-32V DC

Color temperature: 6000K
Aluminum: 6063

Waterproof: IP67

Plug types: H4 H7 H8 H10 H11 H13 H16 HB2 HB3 HB4 HB5 9004 9005 9006 9007 9011 9012

May not fit with dust cover*