2011-2014 Dodge Charger prebuilt headlights (aftermarket style)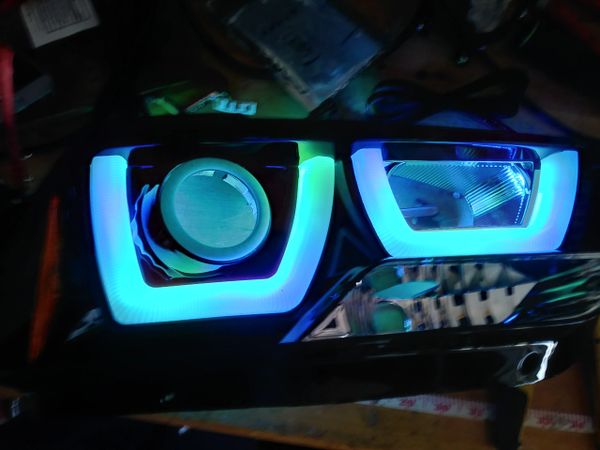 2011-2014 Dodge Charger prebuilt headlights (aftermarket style)
This is your easiest way to get the headlights you want for your 2011-2014 Dodge Charger.  
We start with a new set of headlights and install our Color Chase Halo kit. Then you have the option of adding the strips to the "U shaped" bars, demon eyes and a smartphone controller. 
Finish the look off by adding matching fog light halos.
Your new headlights will arrive to your door ready to go on the car out of the box.  
These halos feature tons of solid colors and hundreds of chasing patterns to choose from. 
Our kit now also features a built in turn signal relay module which allows you to drive in any color or pattern that automatically goes to amber for turning. 
Set includes
New headlights (black or chrome)  (hid or halogen) 
2 rings
Wireless remote
Turn signal relay
Upgrade your headlights with any of the following 
Smartphone controller 
Matching Chasing strips "U bar design)
Demon eyes
Matching waterproof fog halos (mounts to your projector fog lens) 
Please allow 2-4 weeks for delivery.  These are made to order so please feel free to contact us with any special requests.