2008-2014 Dodge Challenger Accent Rings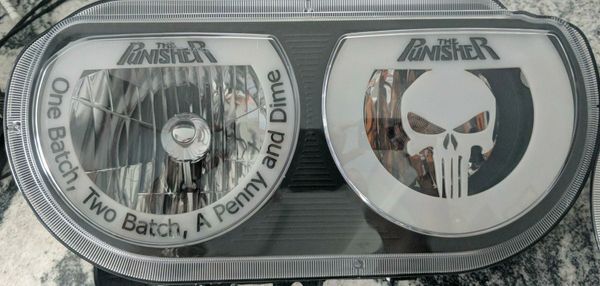 2008-2014 Dodge Challenger Accent Rings
Pictured are with our Herculeds Color chase halo series
We have revolutionized the art of customizing your headlights for your 2008-2014 Challenger.
This 4 piece set of laser cut acrylic can be designed to fit the theme of your car whether its a color or theme you are going with. 
The 2 rings over the turn signal dont interfere with the ability to display your turn light. The ring around the healight low/high beam is designed to not impede on the headlight output, therefore you are not losing any functions.
You have the option of using a specific color acrylic and have them designed and engraved with no lighting features
Or..
We can use a translucent acrylic and design it to feature the lighting.
We have a couple basic images to choose from. Or submit your artwork to drobinder@gmail.com for your personalized set.