10 Pods + 6 Strips Super 7 Color Remote Accent Kit for Motorcycle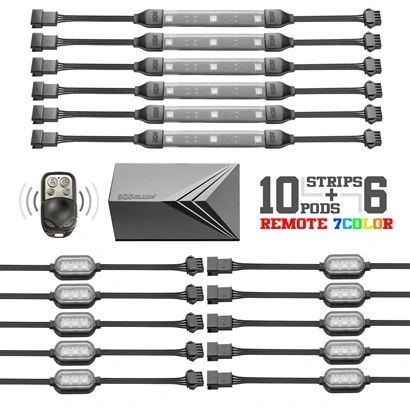 10 Pods + 6 Strips Super 7 Color Remote Accent Kit for Motorcycle
10pc compact pods and 6pc ultra thin strips. 48 total top-grade 50/50 SMD LEDs.
7 solid color display, transitions through 2 million color varaints.
4-key wireless control (on/off; color change; speed; strobe; breath effect)
All installation accessories included and simple plug-n-play wiring.
Second generation controller with improved range.
New light pod design for improved water and dust resistance.
Mounting instruction
Born from the combination of our most loved 7 color strips and pods, this kit is the best choice for riders who pursues the ultimate light coverage with no compromise. In addition to these compact yet ultra-bright lights that enhance your bike's appearance from all angles, this all-included kit is entirely plug-n-play, reducing installation time to a minimum.



Our strips and pods use the same number of LED's and have the same brightness. The strips have a slightly broader light coverage for larger area such as: Under Tank, Saddle Bags, and Ground Effects. The pods light output is slightly more condensed but, the pods can be hidden in tight places such as: behind the air cleaner, on brake calipers, air intake ports, and grills.




The 3M tape ensure the lights can endure the most challenging of riding environments. The kit is expandable to max 50 pods/strips and are 100% compatible with XK CARBON smartphone controller